Expert Cybersecurity Keynote Speaker for Businesses
Protect Your Company from Cyber Threats & Cyber Attacks with FBI John Iannarelli, Former FBI Special Agent, Cybersecurity expert.
Cybersecurity

Keynote & Breakout Speaker
John has presented at hundreds of gatherings in front of tens of thousands, including Fortune 100 companies, domestic and international audiences, the United Nations, and even at the Vatican, where he met personally with Pope Francis to share his recommendations.
His training includes behind-the-scenes, actual FBI stories not heard elsewhere, along with a healthy dose of humor for the audience.
FBI John: Cybersecurity Expert
John has provided cybersecurity training for numerous professions, including CPAs, law firms, the medical profession, real estate, and many more. Through his presentations, John offers insights on the latest cyber threats to business, along with actionable information on how to protect against becoming the next victim.
Throughout his FBI career, John investigated cybercrime, including hackers, ransomware attacks, cyber fraud, and online predators, for which he worked closely with the National Center for Missing and Exploited Children.
John leveraged his cyber knowledge to educate others not only in the private sector, but as well to future generations of law enforcement, including new agents undergoing training at the FBI Academy, senior law enforcement officers from throughout the US attending the FBI National Academy, and foreign police personnel receiving training through the International Law Enforcement Academy in Budapest, Hungary.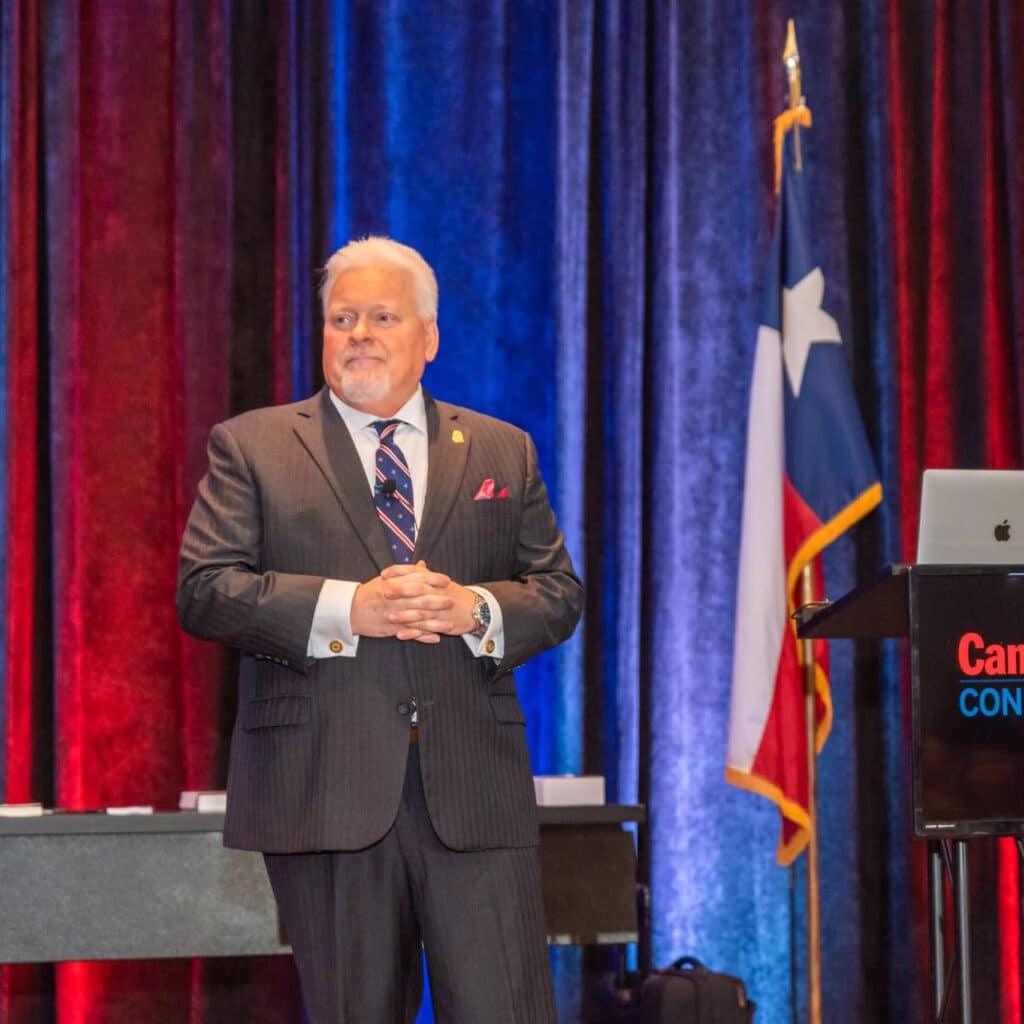 About FBI John
For over 20 years, John Iannarelli, aka "FBI John," served as an FBI Special Agent. Based on his investigative work and specialized training, the FBI designated John as a subject matter expert in the various topics he presents, enabling him to share insights and actionable information that would not otherwise be available to the public.
John is also the author of Information Governance and Security: Protecting and Managing Your Company's Proprietary Information and W.T.F.: Why Teens Fail – What To Fix, a guide to keeping children safe online and in the physical world.
Read more about John.
Testimonials
John was communicative, prepared, timely, and an overall pleasure to work with. He kept attendees entertained, and they walked away armed with new learnings from his sessions. John checks every box on a meeting planner's wish list!
America was safer when John Iannarelli was with the FBI because he is the real deal. He is very smart, savvy, committed, a great presenter, funny, a prolific author, and he's all about integrity.
John's presentation was funny, informative, and frightening. It was the perfect balance to keep everyone engaged.
I compliment John on his book and on trying to make the public much more aware.
John's Cyber presentation was informative, actionable, and totally engaging. Plus, John was hilarious!
John's presentation was as informative as he is entertaining. He makes training enjoyable causing the audience to want to hear more!
Over the years, we have invited John to provide multiple presentations. He is always dependable and prepared, sharing his wealth of knowledge and frequently making our audiences laugh!
The information delivered by John at our "Breakfast with a Side of the FBI" session was a real wake-up call for our business community. John's presentation bypassed the "geek speak" and cut to the chase with practical info on what businesses can do to protect themselves in today's vulnerable online environment.
Aside from John's impeccable credentials, his presentation was knowledgeable and thought-provoking. Despite the serious nature of the subject matter, John interjects humor at the appropriate moments and allows the audience to relax in order to learn better.
The conference presentations by FBI John were informative, interactive, engaging, and a perfect fit for our event!
Hire John to Speak at Your Event
Other Speaking Topics
Active Shooter Prevention & Response
John provides active shooter prevention and response training to the public and private sectors throughout the country. He has presented at hundreds of conferences and businesses.
Through his presentation, John shares the apparent warning signs before many active shooter situations occur and how intervention may prevent a tragedy.
Leadership & Ethics Lessons from the FBI
John held numerous positions of leadership within the FBI. He was the Bureau's national spokesperson addressing the national and international media on all the matters involving the FBI.
Through examining everyday leadership situations, John presents lessons learned to motivate the best performance in others.
Terrorism Awareness & Prevention
John makes regular national news appearances discussing crime and terrorism, offering his unique insights to identify pre-planning activities by those involved.
He has presented at conferences nationwide, sharing the ten unique indicators commonly linked and readily identifiable to terrorism activities.